The North-West University Department of Psychology led research which involved Boitumelo K. Phetoe, Heleen K. Coetzee, Petro Erasmus, and Wandile F. Tsabedze. They set out to explore families' real-world struggles in raising autistic children. As we know, both in South Africa and the rest of the world, autism is becoming more prominent and more research is required to better equip us with necessary treatment. This new study was carried out because a family raising an autistic child is crucial to the treatment and lifelong management of the disorder.
Let's Start With Understanding Autism
Developmental disability known as autism spectrum disorder (ASD) is brought on by differences in the brain. Imagine autism as a certain unique wiring pattern in the brain. Autism may cause people to process information differently, which can have an impact on how they connect socially, communicate, and comprehend emotions. The development and operation of a person's brain are both impacted by this condition. Even before a person is born, it can happen early in life. About 1 in 100 children, according to WHO, have autism. It has been reported that one in every 86 Western Cape children in South Africa has autism.
While some people with ASD may be nonverbal, others may have great conversational skills. Some persons with ASD require a lot of assistance in their daily life, while others may function independently and work. Every child and circumstance is different and it is evident that raising an autistic child has a substantial psychological and social impact on caretakers. This is where the role of family comes in.
According to reports
South African families raising autistic children face huge challenges in obtaining appropriate intervention programmes and educational assistance. The North-West University Department of Psychology undertook this review with the intention of quickly examining and compiling available scientific papers about the experiences of families parenting children with autism. The review focused on the period before and following the child's diagnosis. It tried to understand the social, emotional, and psychological effects on these families.
Getting To the Results!
Three primary themes and eleven sub-themes that were based on families' psychosocial experiences of raising an autistic child were discovered by this thematic analysis.
The first theme dealt with the feelings that were felt. Families go through a range of negative feelings before the diagnosis, such as helplessness, fear, and sadness as a result of their child's atypical behaviours and challenges comprehending their illness. After diagnosis, families may experience shock, devastation, and self or societal blame. In addition, they frequently express their anger, dejection, and despair towards healthcare professionals.
The process of grieving was another theme. Families initially deny or minimise the condition of the child, and feel frustrated and helpless, which causes them to become angry, go through a phase of sorrow and mourning for the ideal child and future, engage in bargaining and questioning, and eventually come to terms with the condition and finally finding new energy to find support for their child.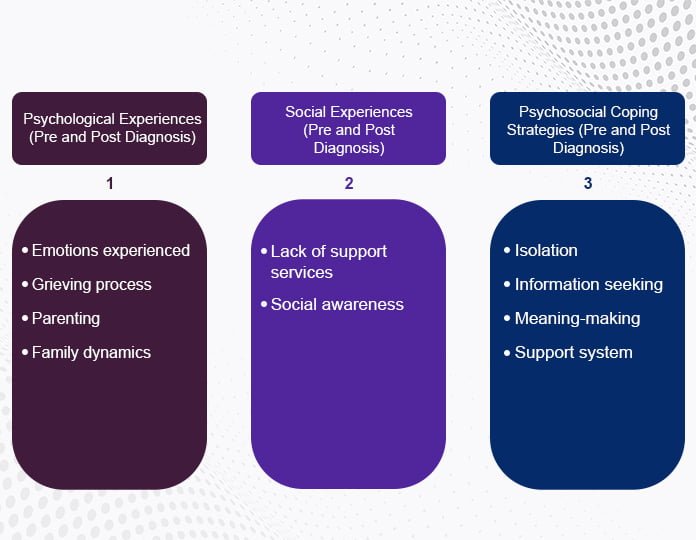 The third theme was parenting. Despite the initial challenges, parents reported personal progress and positive experience. Parents felt the need to change parenting approaches, negotiate their behaviour, and maintain a routine. More such themes were found as shown in the table.
What Does This Mean, Exactly?
Although South Africa is known for having sound policies and legislative frameworks in place, implementation is still in question. In conclusion, the psychological experiences of families raising an autistic child include a range of emotional responses, a sense of loss and grief, difficulties with parenting, and modifications to the family's dynamics and cohesiveness. To better understand the complexity of autism and autism spectrum disorder (ASD), as well as to improve support and interventions, more study is required.